DigiByte is a decentralized blockchain that has been designed from the ground up to be resistant to attacks by hackers. It is one of the fastest and most secure cryptocurrencies in the market today. The DigiByte mining process can be very confusing, so this article will walk you through everything you need to know about how to mine DGB.
DigiByte is a cryptocurrency that has been around since 2014. It was one of the first cryptocurrencies to introduce Proof-of-Work mining, which means that it requires computing power to be solved in order for the miner to get the coins.
This article will explain how to mine DigiByte (DGB) and all of the associated complexities. We'll start by providing you some history on DigiByte, then go through the various prerequisites for getting started with your mining journey.
One of the most significant activities in the crypto world is coin mining. While several cryptocurrencies do not need mining on their network today, the vast majority of the Top 10 cryptocurrencies by market capitalization do.
In reality, cryptocurrency mining is required for the effective operation of the top two cryptocurrencies, Bitcoin and Ethereum. Mined digital assets are thought to be the safest and most decentralized in the market.
A QUICK GUIDE TO DIGIBYTE MINING
1. Get your GPU ready for mining. Install the most recent stable drivers from the manufacturer's website. 2. Get a Digibyte Wallet and install it. Get your wallet address; this will be your Digihash mining pool username. 3. Install DigiByte 1-Start the software by clicking miner. Your computer's security system may flag the application as a virus. This is an example of a false positive. 4. Start the 1-click miner and set up your mining pool. As your username, enter your DigiByte wallet address. 5. To begin mining, click the Start button.
Comparison Table of Digibyte Mining Algorithms
What exactly is DigiByte?
The DigiByte (DGB) Blockchain is focused on delivering cutting-edge high-speed security to its customers. Through a cryptographically safe decentralized network with 40 times quicker transaction speeds than Bitcoin.
The Blockchain of Digibyte is divided into three layers:
Most users in the ecosystem use the Applications / DigiAssets Layer for their day-to-day applications. DGB also includes the DigiAssets layer for you to use.
The DGB tokens are the digital asset / public ledger layer, which incentivizes the community to mine and grow the project, as well as, most crucially, protect DGB.
All DigiByte infrastructure is supported by the Core Communications Protocol / Global Network Layer.
Miners work on the second layer, using various methods to secure DigiByte. This is accomplished by processing new transactions on the immutable public ledger and receiving DGB as a reward for successfully solving the current block. Let's start by looking at how you may become a miner and become a part of the blockchain ecosystem.
DGB Wallets from DigiByte
Before you begin mining, you must first get acquainted with a DigiByte wallet. After coins have been successfully mined, they must be transmitted to a mining address.
We suggest reading through a few and searching for reviews and prior issues. We suggest utilizing a hardware wallet whenever feasible since it provides the highest degree of protection. Although an exchange address may be used, we highly advise against it.
DGB Mining (DigiByte)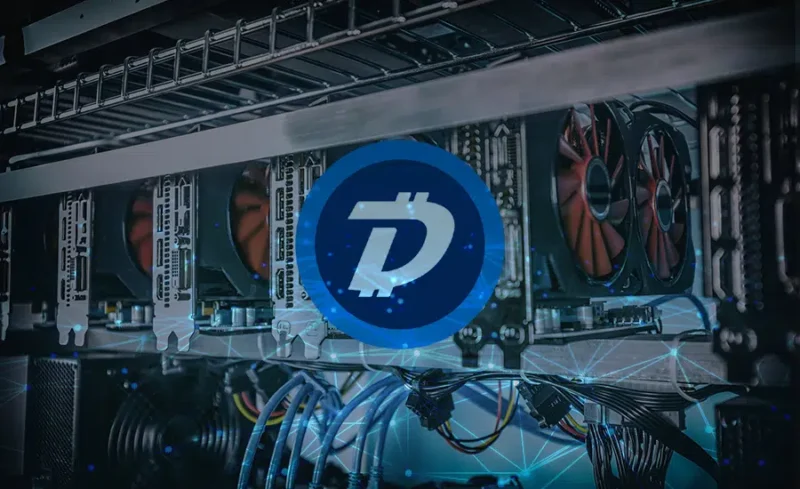 The first thing you should consider is how you want to mine Digibyte. Skein, Groestl, SHA-256, Scrypt, Qubit, and Odocrypt are the six mining algorithms that may be used to mine DGB. GPU mining is done using Skein and Groestl, ASIC mining is done with Qubit, SHA-256, and Scrypt, and FPGA mining is done with Odocrypt.
While mining DGB using Qubit, SHA-256, and Scrypt with CPUs would be a waste of time and money, it might be a nice practice run before investing heavily in a specialized mining setup. Before committing to a financial commitment, the greatest use of your study time is to immerse yourself in the whole ecology of a project.
If you want to be lucrative, you'll need mining calculators. Skein, SHA-256, Scrypt, Qubit, and Odocrypt each have their own calculators on WhatToMine. Groestl isn't supported, which is intriguing.
Graphics Cards in Use
How to mine DigiByte using Nvidia graphics cards may be done in a number of ways, both easy and complicated. The most straightforward method is to install Skein, join a Skein mining pool, and collect DGB as they are mined. The more difficult one, on the other hand, is addressing questions regarding time and money, such as if this is the most lucrative currency to mine and whether the mined coins will pay the cost of power.
Profit generation is a secondary issue as compared to paying expenses and not reinvesting monthly energy bills.
For two reasons, always use a mining calculator and split the earnings in half:
To begin with, cryptocurrency mining is extremely speculative, with volatile coin prices;
Second, owing to downtime, mining rigs fail to provide as promised. The two most significant issues are the mining rig's environment, ambient temperature, and airflow. Circuit boards will overheat if the temperature rises too high, and they will not function at their best.
You must consider sound and drawing unwanted attention to your mining operations if you have more than one DigiByte mining equipment. Multiple worries are diverting attention away from the most important issues.
Theft of your mining equipment, abduction for ransom, or being held prisoner and forced to transfer all of your digital assets are the three most urgent dangers that need to be considered and addressed.
If you wish to mine DGB with an AMD graphics card that includes all of the above-mentioned complications, use Groestl and a Groestl Mining Pool, since Nvidia must be taken into account. Always follow the step-by-step instructions while setting up a mining equipment, since little mistakes may lead to major problems later.
AMD and Nvidia have different business models, thus each graphics card will be as lucrative as the next. A list of compatible GPU cards may be found on the DGB wiki.
ASIC Machines for DigiByte Mining
ASIC mining is one of the most efficient methods to start mining as a company if you want to get serious about DGB mining. Mining may provide a passive income if the cost-to-profit ratios are kept in check. The profitability of ASIC miners is strongly linked with the market value of the coins and the machine's age. Before you purchase a used computer, do a lot of research.
ASIC manufacturers and big mining farms dominate ASIC mining, with first rights to new hardware. They benefit unfairly from economies of scale, since bigger farms are given lower prices for larger batches, resulting in the centralization of most blockchain networks (even if in a limited way, the network was ultimately weakened).
These methods restrict small farms' ability to diversify and prolong the time of return on investment (ROI), resulting in less investment in ASIC coins as a consequence of higher ROIs elsewhere. Bitcoin is the only currency that can really withstand this.
FPGA machines are used to mine DigiByte.
Apart from being lucrative, FPGA mining has another advantage: it restores the dispersed character of decentralized blockchains. FPGAs aren't immune to their own issues; they're sophisticated computational graphics cards that need a solid knowledge of IT to function properly.
There are many sites to investigate; we suggest beginning with the DigiByte wiki and BitcoinTalk. Each card may be further optimized by adding a bitstream, which overclocks the FPGA card and, if not properly set, might result in failure in a matter of hours. We suggest fpga.guide for FPGA hardware and bitstreams. There are a couple FPGA cards recommended on the DGB wiki as well.
Pools of Mining
Mining in a mining pool is not required, but the opportunity cost of solo mining is not worth the risk unless you want to run a big mining farm from the start. Unless you do it properly using DGB, solo mining is the equivalent of joining the lottery and gambling.
Regrettably, this is a poor decision. Their network hash rate is very high, and the chances are stacked against you. You may use SHA256, Scrypt, Qubit, and Odocrypt for solo mining.
We suggest mining pools because they combine a huge number of modest activities into a formidable force. This is where a mining calculator comes in handy, since you can accurately estimate how much money you'll make from your DGB mining business.
You may look to miningpoolstats.stream for a more in-depth look of mining pools. Skein, SHA256, Scrypt, Qubit, and Odocrypt are all broken down to give you a clearer view of the network.
Mining Pools for GPUs
Pools of Groestl Mining
Pools for Skein Mining
Pools of ASIC Miners
Pools of Qubit Mining
Pools for Scrypt Mining
Mining Pools for SHA256
Mining Pools for FPGAs
Mining Pools for Odocrypt
For further pool information, DigiByte has compiled a list of mining pools. Carefully examine each mining pool and determine whether or not it is a fraud.

Cloud mining using DigiByte
Cloud mining is a simple and fast way to hire professional miners to mine your money for you. HashFlare and NiceHash both have good enough reputations to suggest them. We favor NiceHash, although HashFlare is also competent.
Cloud mining, on the other hand, comes with its own set of dangers. While you are not responsible for equipment maintenance, you are responsible for contract costs and may not be able to recover your original investment if the market falls below your cost price.
DigiByte One-Click Miner is a one-click miner for DigiBytes.
The DigiByte team has created a one-click miner. There is no need for debugging or complicated preparations; just install and start.
For both Windows and Linux, they have a GitHub repository. The software is straightforward and simple to use. Anyone with access to a computer with an Nvidia or AMD graphics card or cards may now participate in DBG.
DigiByte Mining is a free service that allows you to mine digital data.
Mining does not imply free money; much study, planning, and layout are required. Each of the techniques has its own set of expenses. You may mine using a CPU or GPU if you already have an idle PC or laptop.
This, however, comes with a daily energy expense and can reduce the life of your equipment since mining is a physically demanding task for computers. This isn't to say you shouldn't attempt mining DGB or another currency. It is not enough to study and acquire information; it is also necessary to exercise it.
Conclusion
Mining is both a labor of passion and a business venture. DigiByte offers a strong community that will assist you if you need assistance. The DigiByte telegram mining group has a lot of knowledge and, more importantly, individuals eager to assist you in becoming a miner or improving your mining skills.
Whether you've never mined before, start with a mid-range gaming computer and approach it as a pastime rather than a business to see if it's something you want to pursue. Since you get into the flow of things, you'll gain experience, as mining offers a variety of fascinating challenges to deal with.
Most issues require the inventive use of search engines to locate a previous instance of a comparable situation. If not, BitcoinTalk usually has a solution for virtually every issue. If they don't, someone may come up with a solution with you.
Never put more money into anything than you're prepared to lose altogether. A single power surge or a cup of morning coffee may harm any mining equipment beyond financially acceptable economic repair.
Despite these dangers, blockchains must be mined, or else all decentralized proof-of-work blockchains would vanish. Proof of stake currencies aren't decentralized enough to survive government regulatory interference in the form of a fiat airdrop.
DigiByte is a cryptocurrency that offers fast, secure transactions. It is decentralized, meaning there are no middlemen involved in the process of sending or receiving payments. This makes it an attractive option for those who want to keep their transactions private. Reference: digibyte mining rig.
Frequently Asked Questions
How do you mine DigiByte?
You can mine DigiByte by using your computers CPU to solve the cryptographic puzzles that are involved in the process.
How do you mine DigiByte ASIC?
DigiByte ASIC can be mined using a CPU.
Is it worth it to mine DigiByte?
DigiByte is a decentralized currency that uses blockchain technology to process transactions. It is not mineable, and no one can create new coins or tokens on their own.