Standing desks have gained popularity in recent years due to their potential health benefits, such as reducing the risks associated with prolonged sitting. However, to reap these benefits, it's crucial to set up your standing desk at the correct height. Determining the right height for your desk is a critical factor in ensuring your comfort and productivity. In this article, we'll explore the key considerations for finding the ideal desk height.
Ergonomics Matter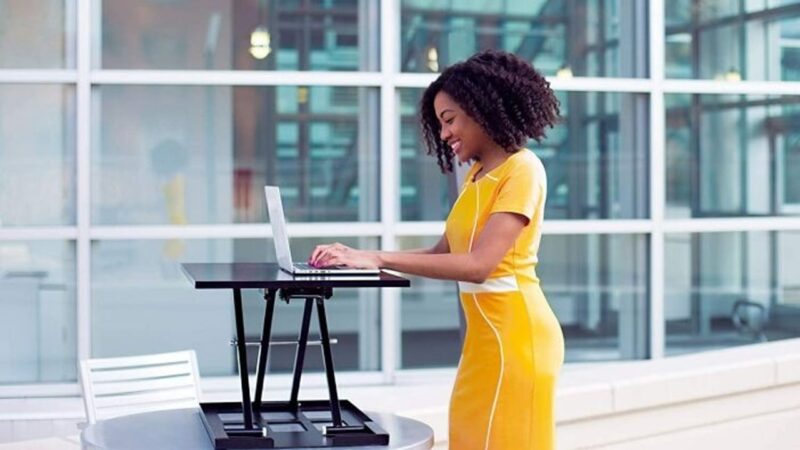 Ergonomics plays a vital role in the design of any workspace, including desks. The goal is to maintain a neutral body posture that minimizes strain on your muscles and joints. When setting up your standing desk, follow these guidelines:
1. Elbow Height
Start by adjusting the desk height so that your elbows are at a 90-degree angle when you type or use your mouse. This position promotes proper wrist and forearm alignment, reducing the risk of developing repetitive strain injuries.
2. Monitor Position
Your monitor or screens should be at eye level. This ensures that you're not constantly looking down or up, which can lead to neck and shoulder discomfort. Use monitor stands or mounts to achieve the right height.
3. Feet Placement
Proper feet placement at a desk is essential. Maintain a shoulder-width stance to distribute your weight evenly and reduce strain. This ergonomic practice enhances comfort and prevents discomfort or fatigue during prolonged periods of standing, promoting a more productive and healthy workspace.
User Variability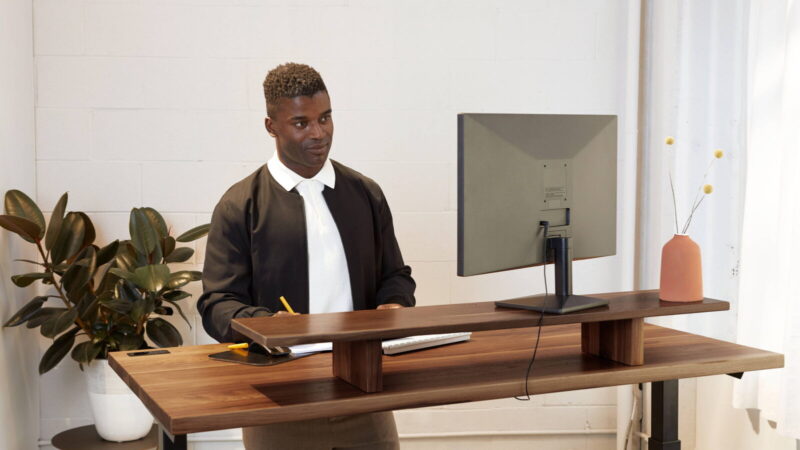 It's important to note that the ideal height can vary from person to person. Factors such as height, body proportions, and individual preferences all come into play.
1. Height Matters
Taller individuals may need higher desk settings to maintain proper ergonomics, while shorter individuals may require lower settings. A rule of thumb is that your desk surface should be at or slightly below elbow height.
2. Experimentation
Don't hesitate to experiment with different desk heights to find what works best for you. Gradually adjust the desk's height over several days and pay attention to any discomfort or fatigue.
3. Anti-Fatigue Mats and Footrests
Anti-fatigue mats provide cushioning to reduce leg strain when using them. Footrests are also beneficial, allowing you to shift your weight and maintain comfort. These accessories enhance ergonomics and comfort, supporting a healthier and more productive work environment.
The Sit-Stand Option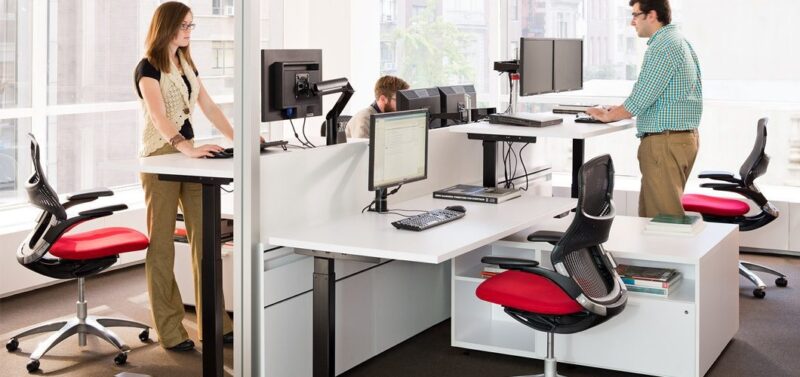 Many modern desks offer the flexibility to switch between sitting and standing. This feature can be invaluable, as it allows you to change positions throughout the day, preventing excessive strain from prolonged standing.
Conclusion
Finding the right height for your standing desk is a crucial step in optimizing your workspace for comfort and productivity. Prioritize ergonomics, experiment with different settings, and consider user variability to ensure that it provides the health benefits it promises. By paying attention to these factors, you can enjoy the advantages of a standing desk while minimizing the risk of discomfort or injury. Remember, a well-adjusted standing desk is a key element in creating a healthier and more comfortable work environment.